Berlinale Reception Welcome Remarks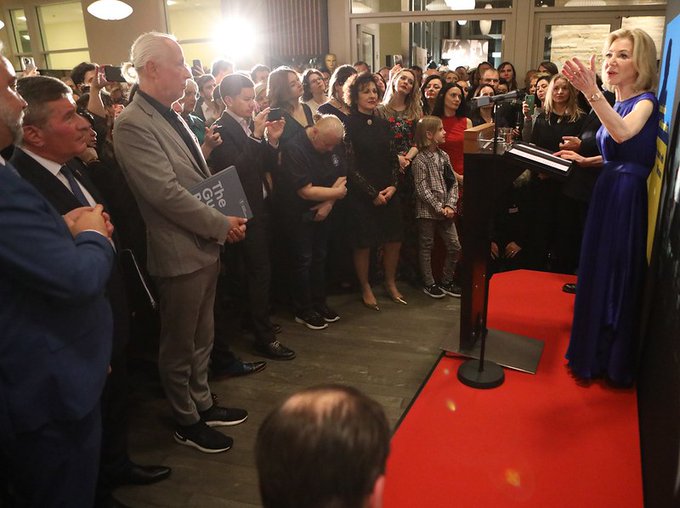 Good evening! And welcome everyone to the Berlinale at American Embassy Berlin! Mariette Rissenbeek, congratulations on a fantastic festival! The US Embassy and I are so pleased and proud to be a part of the Berlinale. Pleased and proud is actually an understatement. My friends—who all know how passionate I am about movies—tell me they now know why I am so enthusiastic about my work. I am the only US Ambassador in the world who gets to host a huge event at the Berlinale!
Movies are my passion because they tap into our humanity in a unique way. It doesn't matter what you do for a living, who you are, where you come from, what you look like, or who you love, the ideas and the emotions conveyed by movies cross all boundaries. Movies move us – they elevate our emotions, and they fuel our intellect. That power of cinema—of edifying our intellect while elevating our emotions— is at the heart of film making and the heart of the Berlinale.
Everybody here loves the movies. Some films entertain us. Some make us laugh. They can make us cry or scare us to death. I will never forget just how scared I was the first time I watched a movie called Jaws. Every time I have seen it since, it scares—and entertains— me all over again. I love that.
Movies also can also make us proud. I am a proud Philadelphian. When the times get hard, and the going gets rough, as it is for our Ukrainian brothers and sisters these days, my mind generates the image of Rocky Balbao running up the steps of the Philadelphia Museum of Art. Just hearing the music triggers that feeling of pride in their courage and determination.
Films can also help us to better understand ourselves and our world. Later this evening, the Berlinale will honor one of the greatest filmmakers of all time: Steven Spielberg. We are fortunate enough to have him with us tonight. Through his films, he has shaped the story of my country, and his moral compass coupled with his creativity have also helped shaped our world.
Spielberg's filmmaking is marked by a faith in our common humanity. This is the same faith in humanity that led him, after creating Schindler's List, to create the Shoah Foundation Institute's Visual History Archive. Spielberg made the voice of the survivors of genocide audible and accessible across all generations, and all around the world. His creative genius has shown us just how much a difference films can make.
Spielberg's films leaped to my mind when I heard President Zelensky speak at the opening of the Berlinale last week. Volodymyr Zelensky urged us all to speak up in the face of evil or wrong-doing. By itself, "cinema cannot change the world," he said," but it can inspire people who can change the world."
This call to humanity, this can-do optimism have always been at the heart of the Berlinale. The festival was launched in 1951 as a Marshall Plan initiative. Toby Rodes – a former US army captain and junior diplomat in Berlin – wanted to revive Germany's cinematic tradition. And to do so by connecting Germans with Americans through one of our most famous cultural exports, then and now: the movies, aka Hollywood. From the beginning, the Berlinale also championed a commitment to free speech and free expression, the most basic values of any democratic society.
Hollywood would not be the same without the contributions of the pioneer German Jewish studio heads who immigrated from Europe to California. They built a global industry that turned movies into a popular art form and an incomparable medium of communication.
We are proud to co-host this reception with a film studio that is part of this inspiring story: the award-winning Studio Babelsberg, just down the road. A special welcome and huge thank you to our friends from Studio Babelsberg – Carl Woebcken, Christoph Fisser, Henning Molfenter, Michael Duewel, and Eike Wolf. We are proud that so many American films are on the program this year, and so many Americans are attending the festival and here tonight – including members of the Motion Picture Association. Welcome back to Germany, Ambassador Rivkin, and thanks to Christian Sommer for being a great partner here in Berlin!
A warm welcome also to the producers, casts, and crews of just some of the American films and TV Series that are part of this year's Berlinale! The entire cast of the documentary "Love to Love You, Donna Summer," directed by Oscar and Emmy-winning filmmaker Roger Ross Williams and Brooklyn Sudano, daughter of Donna Summer, is in the house.
It is a special honor to welcome the recipient of an Honorary Oscar last year for her contributions to the film industry, Euzhan Palcy. Madame Palcy, your artistic vision— "to bring our collective humanity into focus on the screen"—is inspiring. Thank you for sharing your experience at our panel this afternoon at Morrison & Foerster on "Diversity in Film."
My warm welcome to Christiane Stützle and Christoph Wagner and all our friends at law firm Morrison & Foerster. Our co-hosted panel today vividly conveyed that diversity and inclusion make teams, industries, and communities stronger, smarter, and more successful.
I also need to give a shout out to my team – the best team in the world – for all their work to make this evening so special. I especially want to thank Kerstin Reichert for her leadership and passion.
This year, the Berlinale is dedicated to people in Ukraine and Iran who in the face of unspeakable oppression are standing up with enormous courage for their freedoms. Thank you all for standing with them. Yesterday, Today, and Tomorrow. And for as long as it takes in the future.
Our guests of honor this evening are the Ambassador of Ukraine to Germany, His Excellency Oleksii Makeiev, his wife Olena, and his daughter Anastasia.
Ambassador Makeiev, there are not enough words to fully describe my admiration for the Ukrainian people's courage in the face of Putin's brutality. But permit me to say a few words here tonight, in the spirit of our essential ethical unity. Yours is a country of heroes. Heroes who continue to face brutal aggression. The agents of that aggression must be held to account.
We know that Russia's forces have committed execution-style killings of Ukrainian men, women, and children. We know they are torturing civilians in detention through beatings, electrocution, and mock executions as well as rape.
Russian officials have deported hundreds of thousands of Ukrainian civilians to Russia, including children who have been forcibly separated from their families. These acts are not random or spontaneous. they are part of the Kremlin's widespread and systematic attack against Ukraine's civilian population. Against our Ukrainian brethren, Russia is carrying out nothing short of crimes against humanity.
The extent of human suffering inflicted by the Kremlin on the Ukrainian civilian population is egregious—its physical scale is staggering and its moral costs are even greater. As President Biden underscored in his historic visit to Kyiv yesterday and in his visit to Warsaw today, the moral imperative placed before us compels us to act, act now, and act until Ukraine determines victory has been achieved. We shall also prepare for the rebuilding of Ukraine and recovery of justice for the victims of Russian crimes against humanity.
Mr. Ambassador, I stand here this evening to say that our shared values demand that we do everything we can to hold accountable all those who responsible for these crimes. There can be no impunity.
Together, we will help defend Ukraine's democracy and sovereignty. The United States of America will work with you and your government, with Germany and with all our transatlantic partners to pursue peace and justice for the people of Ukraine. And we will all stand with you for as long as it takes. Slava Ukraini.
Ladies and gentlemen, I know this Berlinale community shares this commitment and conviction. Let me close with a very special thanks to you all: the writers, directors, actors, the producers, cinematographers, artists, and all of you here who through your creative expression are doing what you can— in the words of President Zelensky —to change the world.
Thank you for everything you do. Thank you for being here with us tonight. Thank you for standing—in all our diversity—proudly united for humanity.