Founding ceremony of Scholars at Risk (SAR) Network Berlin-Brandenburg
Humboldt-Universität zu Berlin
April 18, 2023
– as prepared for delivery –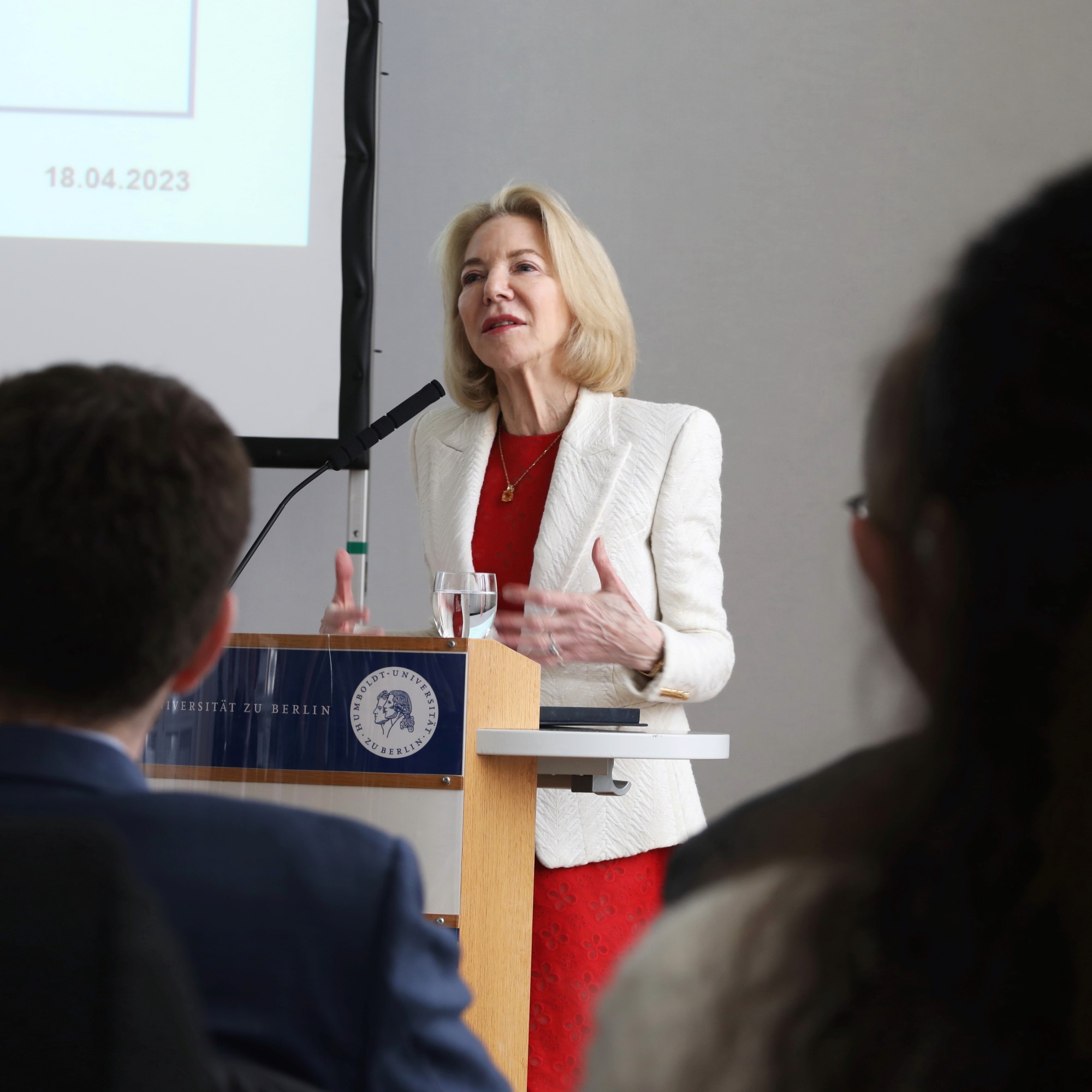 Professor von Blumenthal,
It is an honor to join you here today at this very special event that speaks volumes to the legacy of Wilhelm von Humboldt, the founder of this university.
No freedom is more connected to human progress and the spirit of democracy than the free discovery and exchange of ideas.
In the early 19th century, this freedom was core to Wilhelm von Humboldt's revolutionary vision of combining research and teaching. This visionary model for higher education was replicated first in German universities and then universities in countries around the world, including the United States.
Back then, thousands of American scholars pursued their studies in Germany. Upon their return, many of those students became leaders in American higher education. They turned Humboldt's vision into action, establishing research universities as centers of free inquiry.
What exactly was revolutionary about this idea?
It's the very notion that knowledge is continually discovered and renewed by every successive generation, not simply learned from a review of the past. The idea of actively pursuing and discovering knowledge demands freedom. This is Humboldt's gift to both scholars and society. This legacy became a global one, and it lives on. It certainly influenced my career as a scholar, university leader, and now U.S. ambassador to Germany, its country of origin.
Humboldt's legacy describes what today we call academic freedom: the freedom of scholars and their students to pursue, discover, and disseminate knowledge and understanding. The First Declaration on academic freedom in the United States was published in 1915 by the American Association of University Professors. Remarkably, almost half of their members graduated from a German university.
Academic freedom is not only part of the world's shared history – it is also central to our future. Without the defense of free inquiry in the face of threats, both democracy and social progress atrophy.
Speaking of historic defenses of free inquiry, in 1860, just a year after Humboldt's death, the great American abolitionist leader, writer and statesman, Frederick Douglass courageously stood up and spoke out after a violent mob shut down his peaceful meeting with fellow abolitionists at the Tremont Temple Baptist Church.
At the Boston Music Hall, he defended the free discovery and exchange of ideas to every worthy human cause. "Liberty is meaningless," Douglass said, "where the right to utter one's thoughts and opinions has ceased to exist. That, of all rights, is the dread of tyrants. It is the right which they first of all strike down. They know its power."
Because they know – and fear – its power, we must never take it for granted. Academic freedom is under threat throughout the world today, first and foremost by authoritarian governments that systematically suppress it and imprison scientists and scholars along with journalists.
Academic freedom is threatened today even in democratic countries. Let me cite just a few examples. Public funding has been denied to worthy scientific inquiries by virtue of their suggesting that climate change is man-made. Teaching about racial injustice and—more broadly—about diversity, equity, and inclusion in entire public-school systems has been restricted. Controversial speakers have been prevented from speaking.
Whenever reasonable discourse is no longer sought, whenever facts are deliberately falsified, whenever unsubstantiated theories are presented as "alternative truths," academic freedom is imperiled. And so is the spirit, or one might even say the soul, of democracy.
Because academic freedom is so broadly threatened, it becomes incumbent on all of us to defend our shared values, and to stand up for democracy. This is precisely what the Humboldt-Universität zu Berlin is doing today by establishing a regional platform for the Scholars at Risk Network along with partner universities in Berlin and Brandenburg. This is indeed a most admirable part of the legacy of this university.
Every year, the Scholars at Risk Network provides sanctuary and assistance to more than 300 threatened scholars worldwide. According to recent statistics, academic freedom is in retreat for over half of the world's population.
To cite just a few examples:
Russia's full-scale invasion of Ukraine and suppression of dissenting voices in its own society;
the Taliban's denial of education and general oppression of against women and girls in Afghanistan;
the systematic targeting of university campuses to suppress social and political activism in Iran;
the silencing of dissenting scholars in Syria and Turkey; and
the restriction of academic freedom, research integrity, and political discourse throughout China.
These are but a few examples of current threats to academic freedom around the world, which are deeply disturbing.
Many of these threats have deadly and career-ending consequences for scholars and students. We must not let the work of a scholar's lifetime—let alone the scholar's life itself—be stopped by political suppression and upheaval.
Last month, when Robert Quinn, executive director of the Scholars at Risk network, heard that I would be speaking here today, he wrote to me at the Embassy. He recounted the story of a scholar from Afghanistan who in turn had written to him on behalf of the Afghani community.
The SAR Network has given hope for better days to scholars who call Afghanistan home. Host universities have provided them with support to continue their work in a safe environment, but their futures remain uncertain.
The State Department provides funding to the Scholar Rescue Fund of the Institute of International Education to support scholars at risk in Afghanistan and other countries. Our State Department also partners on many programs to support women scholars at risk globally.
I heartily commend German host institutions for all they are doing for scholars from Ukraine and Russia who have sought refuge here. As President Steinmeier has said, the work of these scholars represents a glimmer of hope.
For decades, I have looked for creative ways to resist every erosion of free discovery and debate in liberal democracies while joining with others outside our countries to support academic freedom worldwide.
Early on in my University presidency, I helped create the UN sponsored Global Colloquium of University Presidents in concert with Secretary-General Kofi Annan. Recognizing that the greatest threats are globally interconnected, the Secretary General had challenged universities to focus on threats to global freedom, health, peace, and prosperity, and work together for the greater good of humankind.
At our first Colloquium, participating universities issued a joint statement on academic freedom, recognizing the important role played by institutions of higher learning within and across societies. We issued a statement that reinforced the UNESCO Principles of Universities for which every university should stand:
1. The right to pursue knowledge for its own sake and to follow wherever the search for truth may lead.
2. The tolerance of divergent opinion and freedom from political interference.
3. The obligation as social institutions to promote, through teaching and research, the principles of freedom and justice, of human dignity and solidarity, and to develop mutually material and moral aid on an international level.
Many universities worldwide adopted our joint statement and highlighted the importance of academic freedom to their societies, some for the first time in their history. Universities are engines of economic development. They foster technological and scientific innovation. They stimulate creativity in the arts and literature. And they address urgent global problems such as poverty, disease, ethno-political conflict, and environmental degradation. Academic freedom is not an end in itself; it is a means to many valuable ends. Academic requires both material and moral support.
Today, some twenty years later, the defense of academic freedom remains at the heart of ongoing battles over the role of universities – in both democratic and authoritarian societies. We must strongly support diverse and inclusive research communities. We must protect them from political interference that limits access to scientific discovery and dissemination. We must ensure the integrity of their work through transparent, clearly communicated policies that encourage collaboration while discouraging xenophobia and prejudice.
We must also do our best to protect against authoritarian regimes exploiting our open and inclusive research communities to undermine our freedom. When afforded the freedom to work together, diverse communities of scientists and humanists learn to think globally, plan empathetically, and engage civically.
Universities today have taken enormous strides in promoting the common good. They have been the engines of innovation in medical and biotechnology, digital technologies, and artificial intelligence, and in the ethical uses thereof. Just one of myriad examples is the investment by many universities in mRNA research, which was unpopular even among many scientists, until the ongoing breakthroughs that have already saved millions of lives. Decisions regarding the use or misuse of potentially sensitive research add a new level of responsibility to our research ecosystems, underscoring the importance of ongoing ethical inquiry.
As I have written in the past, universities derive their greatness by enabling professors and students to explore topics in all their complexity, to think critically and debate issues where there are grounds for reasonable disagreement, and to imagine and express new ideas and new worlds without fear of reprisal or retribution.
That is Humboldt's legacy. Professor von Blumenthal, I salute the solidarity of Humboldt University and all the participating institutions in launching a Berlin-Brandenburg chapter of the Scholars at Risk Network. I salute the commitment of the Scholars at Risk Network. And above all, I salute the passion and the potential of scholars everywhere, in all countries, and their right to think, question, and share ideas. Thank you and I look forward to you questions.