Ambassador Gutmann's Opening Statement for Pride Day Panel 2023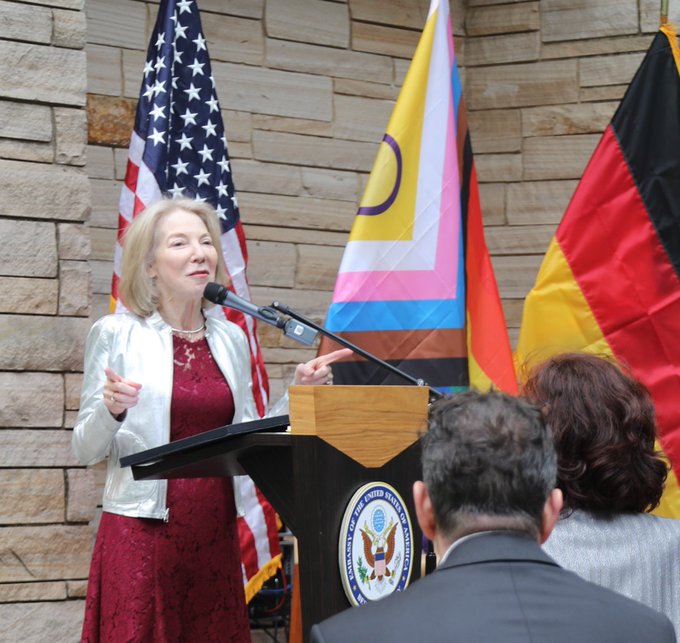 Today we have invited you all to join us in honoring the contributions of the LGBTQ+ communities in both Germany and the United States, to celebrate their legacy, and to chart an inspiring course — "toward a more perfect union" — for the future.  That is what Pride Month is all about – taking stock of the past to prepare us for a more inclusive, just, and joyful future.
Speaking of more inclusive, just, and joyful: This year, President Biden hosted the largest Pride celebration in White House history with LGBTQ+ families from across the country.
And here at the Embassy and at our five Consulates, the past 12 months have been Pride Year.
Last summer, we rolled out a series of Pride events to promote LGBTQIA+ rights. We followed up throughout the year with multiple programs highlighting what together we are doing in the United States and Germany to advance equality for the LGBTQIA+ community both at home and abroad.  You have been our partners in these programs, and many more. For that, and much more: Thank you, thank you, thank you.
On his first day in office, President Biden signed a historic Executive Order charging the federal government with protecting LGBTQIA+ people from discrimination —on everything ranging from health care to housing, education to employment, commerce and criminal justice.
Our country—and every country—is stronger when our leaders reflect our full diversity, and when our rights and values are woven into the daily work of our government. Toward a more perfect union starts at the White House, our Embassy, and all our embassies around the world.
We have made real progress but we cannot rest content. There is an urgency of this moment.  There are those who want to roll back the progress so many have fought so hard to achieve.  In the United States, we are seeing many very threatening attacks to our most basic values and freedoms — from book bans to anti-LGBTQ+ laws to harassment of individuals.
In a third of the world's countries, queer status or conduct is illegal.  In some places, same-sex relationships are criminalized – even punishable by death—and people often have no choice but to seek refuge elsewhere.  Even in countries of asylum, stigma and abuse are far too common.
Let us be crystal clear: Queer rights are human rights!
All of our work to promote human rights has real effects. People are looking to us. Toward a more perfect union.
Because both Germany and the United States have played meaningful roles in the fight for queer rights, we feel a special and joyful duty to celebrate Pride. We will avidly advocate for LGBTQI+ rights as often as possible right here at the U.S. Embassy in Berlin.
Let us celebrate the transatlantic struggle for queer rights. Germany named its pride celebrations after a street in New York City. Christopher Street was the site of a despicable police raid and the courage to resist that oppression – and persist. Stonewall was a milestone in the American civil rights movement and it launched a global movement.
Let us also recognize the pioneering work of Magnus Hirschfeld at the Institute for Sexual Science, established here in Berlin in 1919.  Magnus's trailblazing research was lost to the brutality of the Nazi regime, but the spark of his idea that queer people deserved rights and support could not be extinguished.
Both these moments in history—one American, one German—show why "toward a more perfect union" can never be taken for granted.  This coming Saturday, we will be riding and marching – proudly– alongside our partners from the Auswärtiges Amt and other Embassies. We are marching across Germany – in Frankfurt, Hamburg, Rostock, Leipzig, Muenster, and Munich.
We will never kid ourselves: defending hard-won rights in the face of ongoing discrimination is serious work.
This evening, we could not be prouder than to continue our tradition of Pride programs in welcoming Germany's anti-discrimination commissioner, Ferda Ataman.
We know that history doesn't just travel forward.  Advancing the gains our countries have made requires continual hard work, what I call "eternal vigilance."
In conclusion, let me say that we will stand proudly for the human rights of all people, everywhere. Let me propose a heartfelt toast: To a more LGBTQ plus perfect world!
Amazing night celebrating #PrideMonth at the @usbotschaft with LGBTQIA+ friends. Let us be crystal clear: Queer rights are human rights! pic.twitter.com/mpiovdARd7

— Ambassador Amy Gutmann (@USAmbGermany) July 19, 2023