U.S. Consulate General Frankfurt
The Consul General and his principal officers direct the activities of the United States Consulate General in Frankfurt. The Frankfurt Consulate is the largest U.S. consular post and one of the largest diplomatic missions in the world. The Consulate serves the American resident community – including members of the Armed Forces and their families, business people and retirees – and assists many other visitors to Frankfurt.
Due in large part to Frankfurt's excellent international airport – one the world's busiest and best – the Consulate plays a key role in the supply chain for and provides a wide array of services and support to over 100 other US missions around the world. The Consulate is also a major regional conference and training center for staff from other embassies and consulates, and it provides consular-services support functions for the region.
About the Region
The Frankfurt consular region consists of four states: Hesse, Rhineland-Palatinate, Baden-Württemberg and Saarland.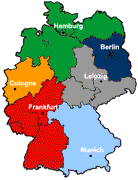 • Frankfurt |English
• Hessen
• Rheinland-Pfalz
• Baden-Württemberg
• Saarland